Paintless Dent Repair Las Vegas
Paintless Dent Repair Las Vegas
Welcome to the most referred and reputable paintless dent removal company in Las Vegas and Henderson area. As you may have heard, PDR is the most preferred and fastest method for removing dings and dents in your vehicle without painting.
Paintless dent repair or commonly called PDR is an extremely specialized process that utilizes surgically fabricated tools designed to gain access behind the damaged panel. Pressure is applied to the dented areas while meticulously massaging, manipulating and reforming the metal back into its pre-accident conditon.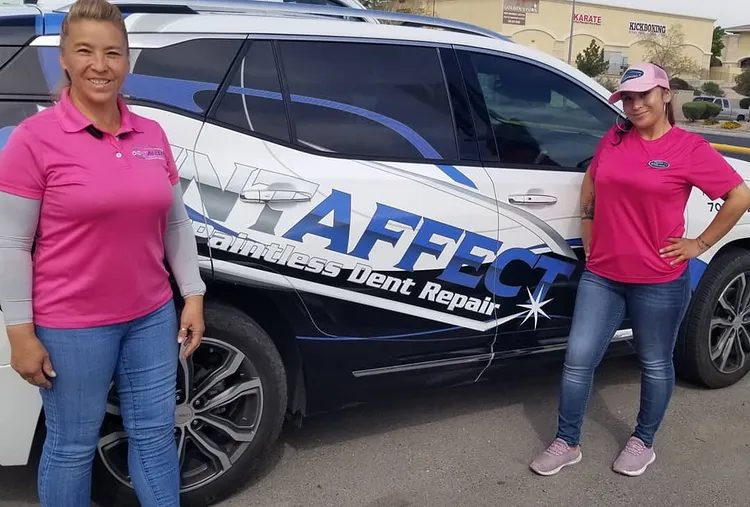 How does it differ from a conventional auto body shop?
Paintless Dent Repair doesn't hide your car's dents and dings. It removes them from the underside of the panel without the use of paint fillers (body putty), sanding or repainting the car. Panels aren't replaced and painted requiring blending into adjacent panels in order to match paint color and texture. PDR is preferred "first choice solution" for auto ding and dent repair because it not only removes damage, but also keeps your factory or custom paint finish as well as original body panels intact.
We know that there are customers who want the lowest price and that's perfectly fine. We also know, however, the these customers should be aware of the fact that PDR can take a lot of skill and patience. We cannot stress enough how important it is to choose your PDR company based on their reputation and reviews. That being said, no matter how low the cost is for repairing your damaged car paintwork or other kind of vehicle damage, if the quality isn't excellent, then it won't have any significance at all.
At Dent Affect we have taken immense pride in our work over the last 24 years and we feel we have perfected our trade over this time while never compromising on quality even though our prices are extremely affordable. Please contact us today so we can put that pride back in your ride! Call or text us your photos to 1-702-762-0267.
Paintless dent removal is a delicate process and demands the best experience at all times. Dent Affect offers true practical knowledge and takes tremendous pride in our work.
We have established a strong reputation for being the best at what we do. We don't cut corners when it comes to the integrity of your vehicle and more importantly the quality of your repair. Our service is fast, affordable and done right, on-site with a lifetime warranty and satisfaction guarantee.
Please feel free to text your photos for a fast estimate to +1 702-762-0267 
Frequently Asked Questions
WE PROVIDE TRUSTED SERVICES FOR YOU
Imagine Your Car Like New Again
Questions? Give us a call today at +1 702-762-0267