Classic Cars Paintless Dent Repair
Dent Affect is a top-notch PDR company for classic and vintage vehicles in Las Vegas and Henderson. We've been bringing dents out of classic and vintage cars for years. Our vintage auto body repair facility has performed some amazing paintless body repairs for countless happy customers, so every additional dent or ding that comes our way will also be successfully taken care of by one of our expert technicians.
Dent Affect takes every job seriously with the awareness about the type of vehicle we are working on. We realize on classic and vintage cars, the paint finish isn't the same and different approaches are needed. There are precautions and a protocol we follow before a dent tool even touches your vehicle to ensure a successful dent repair. We will personally advise you about the details of the dent removal and go over any questions or concerns you may have before the repair.
Our reputation for the highest caliber work and complete satisfaction is our first priority.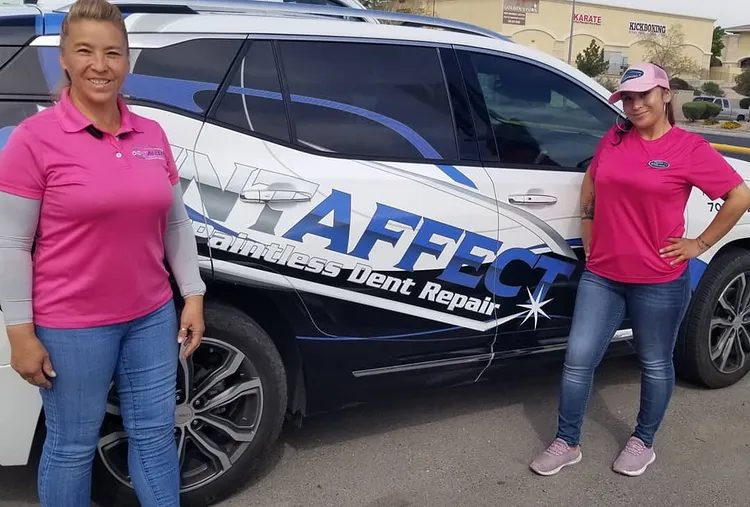 How does it differ from a conventional auto body shop?
Modern technology has allowed us to get better, faster and more efficient at repairing dents and dings on vehicles. Paintless dent repair is a specific process that involves using adhesives or tools to correct the damage without having to replace panels, sand and repaint in order to match the factory finish. This method won't only save you money because it cuts down on labor costs, but it also tends to look better since you're fixing the problem instead of covering it up, which means your vehicle will look like brand new after repair. Furthermore, we do not require any new paint or primer because our methods are designed not only to use existing paint but also to prevent scratches and cracks from causing further damage.
We know that some customers seek a cheaper price, but it is important to note that the cost of repairing your dent will not have any real relevance if the quality isn't up to par. Choosing our services over less-reputable companies is based on two things: good reputation and multiple stellar reviews. At Dent Affect we are proud of being one of the most reliable PDR specialists in the Las Vegas and Henderson areas. We have been improving our craft for more than 24 years, and offer affordable rates as well as top-notch workmanship. Please contact us today so we can put that pride back in your ride! Call or text us your photos to 1-702-762-0267
Paintless dent removal is a delicate process and demands the best experience at all times. Dent Affect offers true practical knowledge and takes tremendous pride in our work.
We have established a strong reputation for being the best at what we do. We don't cut corners when it comes to the integrity of your vehicle and more importantly the quality of your repair. Our service is fast, affordable and done right, on-site with a lifetime warranty and satisfaction guarantee.
Please feel free to text your photos for a fast estimate to +1 702-762-0267 
Frequently Asked Questions
WE PROVIDE TRUSTED SERVICES FOR YOU
Imagine Your Car Like New Again
Questions? Give us a call today at +1 702-762-0267